Meet Our Team
Lucy
Lucy has been a part of our team for over 25 years. Her fun, friendly, and warm personality is the first thing our patients notice about her. Lucy Is the person in charge of making sure our schedule runs smoothly and effectively. She makes sure our patients are fully comfortable with their treatment plans and she is always ready to answer any questions that come her way. Lucy has been a part of our patients lives for many years and she treats our patients like her own family members. In her spare time, Lucy enjoys spending time with her loving husband and three boys. Lucy likes spending time with her family, cooking, and watching movies.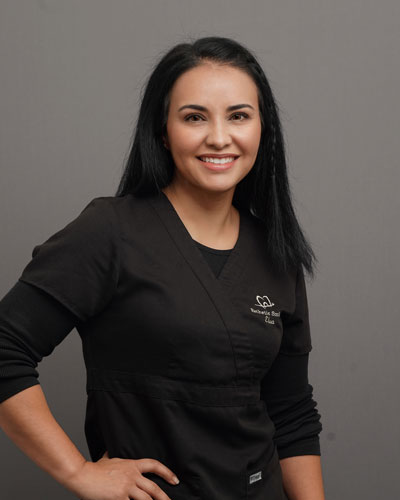 Elva B.
Treatment Coordinator
Elva is our treatment coordinator and one of the two friendly faces our patients first see when they walk into our practice. She specializes in insurance billing and helping our patients understand the financial aspect of their dental procedures. She treats every patient with the outmost respect and treats them like a member of her own family. She is always available to answer any questions, or clarify any issues our patients may have. Elva has a Bachelor of Science degree in biology from California State University Channel Islands. She is married to her loving husband and together they raise their two children. When she is away from the office, Elva enjoys running, hiking, reading, and trying out new recipes.
Angelique A.
Dental Assistant/Front Office
Angelique has been a part of Esthetic Smiles since 2010. It is her job to make the office runs on schedule and to ensure that our patients are seen on time. She gives every patient her best effort and helps the other dental assistants with their schedules. It is rewarding for Angelique to know that patients leave our office with great dental work from Dr. Abajian. In her spare time Angelique enjoys reading, jogging and watching her favorite TV show, "Friends."
Daisy
Dental Hygienist
Daisy is one of our dental hygienists. She is an important part of our preventive and periodontal department. She is passionate about patient education and helping them prevent gum and periodontal disease. Prior to becoming a dental hygienist, Daisy was a dental assistant for many years which makes her understand all aspects of dentistry. On her days off Daisy enjoys cooking, hiking, and walks on the beach.
Vanessa
Vanessa is an essential part of our clinical patient care. She makes sure our dentists have all they need to perform state of the art dentistry. Vanessa enjoys striking up conversations with our patients to make them feel comfortable and relaxed. In her free time, Vanessa enjoys spending time with friends, hiking, reading, and trying new restaurants.
Mona
Dental Hygienist
Mona has been a part of our practice since 2010. Her gentle touch and advanced clinical skills made her the recipient of the prestigious "Golden Scaler Award". Mona strives to make her patient's visits comfortable and pain-free. In her free time, she enjoys traveling, cooking, and reading.